Bancroft Fitness has been promoting healthy fitness habits for individuals of all needs and activity levels for almost 19 years.  A recent change in business operations has provided an exciting opportunity for shared leadership with the Bancroft Community Family Health Team.  With the collaboration, Bancroft Fitness will continue to provide programs and fitness experiences that meet your exercise goals.
COME SEE US AT OUR
NEW LOCATION!
As a not-for-profit gym, all money made on memberships will be put back into improving the gym and adding classes and equipment. Our goal is to ensure members have the best possible experience. 
Students rates are available for members age 13 to 17, or with valid University/College Photo ID to age 25. Students age 13 to 15 must be accompanied by an adult. Senior rates are available for members age 65 and older.
We know that, at times, finances can limit your fitness goals.  We are here to help.  Special considerations can be requested.
Personal trainers who are not employed by Bancroft Fitness, you must contact our team to discuss fees and requirements. 
Regular memberships allow access to the gym between 8:00AM and 6:00PM.
After hours membership give members the ability to access the gym any time between 4:00AM and 12:00AM.
The gym will be closed and secure between 12:00AM and 4:00AM – No members are permitted to be in the gym during this time. 
How to become a member of Bancroft Fitness
All 3 sets of forms below need to be completed to register.
Completed forms can be dropped off to the gym or emailed to fitnessbancroft@gmail.com
GIFT CERTIFICATES
AVAILABLE
Email us at fitnessbancroft@gmail.com
to get yours!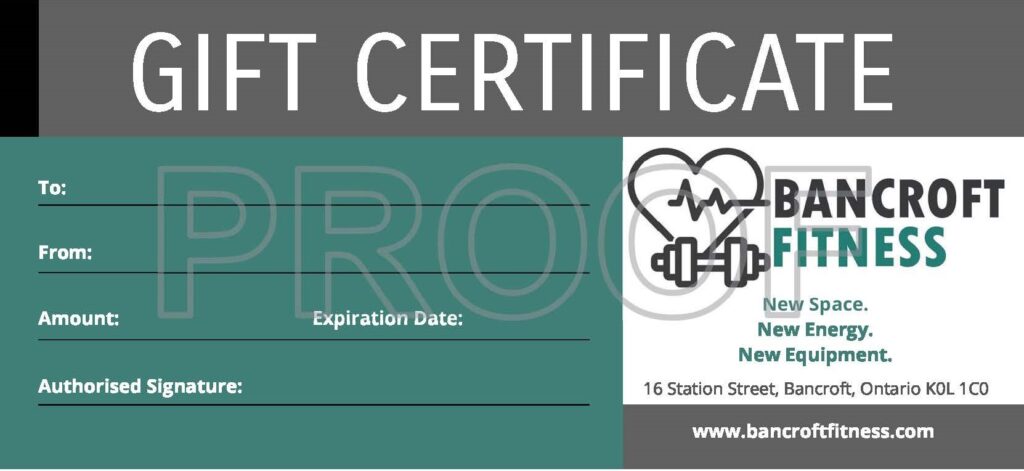 Office Hours
Mon, Tues, Thurs & Fri – 8:00AM to 4:30PM
Wednesdays – 10:00AM to 6:30PM
Saturdays – 8:00AM to 12:00PM
Contact Information
Phone: 613-553-8070
Email: fitnessbancroft@gmail.com
Address
16 Station Street,
Bancroft, Ontario 
K0L1C0
Everyone Starts Somewhere